We Need to Talk About Dave.
As you will no doubt have seen, Chris and Ali have become quite enamoured with Antweights and Featherweights respectively. However, the main goal of all of this in the first place was to get Big Dave 3 up and running. To that end…. redesign time! Big Dave has now been redesigned at the insistence of Chris, and now sports a lower centre of gravity, 4 motors (instead of 2) and comes in at a digital 106.5KG.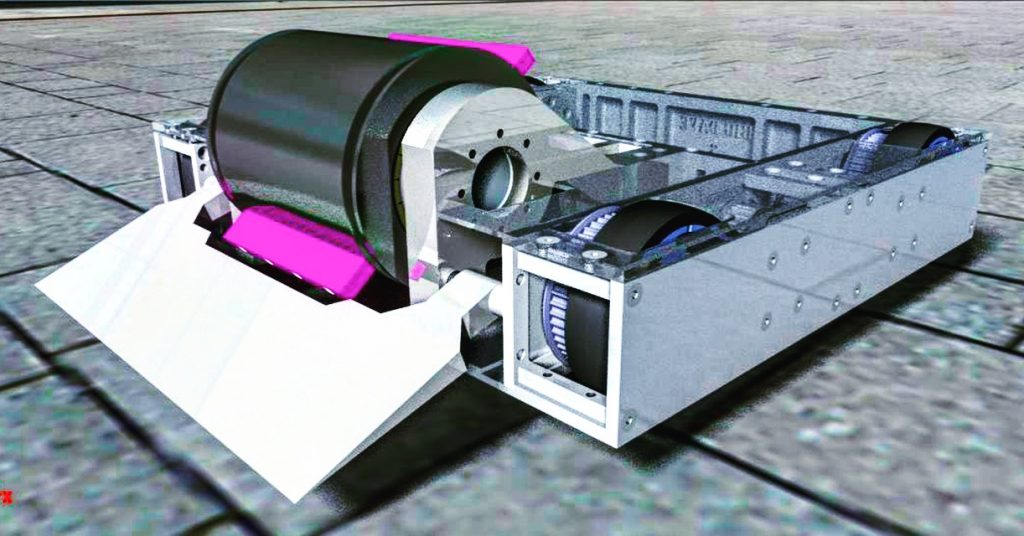 Looks mean, don't it?
Well, let's talk about the redesigned Big Dave 3.
Firstly – things that are the same. It's still go the massive, 40KG spinning drum being spun by a TP Power motor and a V Belt, which is still powered by our beast of a 300A ESC. The bearings are still the same. But that's it.
New things! The drum axles are now hollow, the drive system is all new (with custom cast wheels and 2 stage belt reduction), the floating wedge is new, the impactor design has been updated, the entire robot now runs on 10s (37V), there's a 10mm Aluminum bottom plate, and a 4mm polycarbonate top plate, which has space to flex as needed.
The drum mounting plates are held in place by M20 screws (we're expecting tonnes of shock!) and the impactors themselves are a tiny bit longer, so that we don't have to mill down our stock. (They were 40mm, but come at 50.8mm (2in) from the factory – so now, we have an impactor length of 30.8mm)
The impactors are still going to be H13 tool steel. Our wonderful machine shop (GSD Tech in Southampton) will have a fun time doing those.
Finally, the dimensions – without the drum, the robot is 700 x 630 x 121.
And that's the small update for now!