The 10 week build – Week 10
We've reached the end of the build!
I (Chris) am quite frankly exhausted, the machine shop I use are wondering what's coming next (and not everything quite fitted together when I was over there on Wednesday), and I could do with a break.
We present – Catch Me If You Can – the fastest featherweight we know of topping out at an impressive 18mph!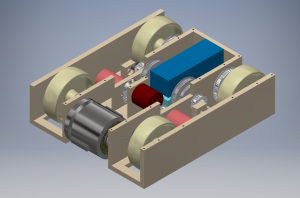 What started out life as a CAD drawing 10 weeks ago, has now been made a reality thanks to the exceptionally talented people at GSD Tech in Havant.  They have simply been awesome – we basically sent them the full model, and went "build it" – and it happened, with them fixing a few minor issues along the way.
We have a few little bits still to do (back plate, weapons test), but we're basically there.
With just a few days until we head to Manchester – I (Chris) am really proud of how well it's turned out for a project where I had no idea what I was doing when I first started.  I've had to learn Autodesk Inventor from scratch, work out gearing ratios, belt lengths, etc.  All of this has been new territory – I don't normally do mechanical engineering.  It's not come out badly considering!
A few other people who also need thanking (in no particular order):
Annette at Hoffers Bakery in Southampton for scrounging the tyres from her husband's bike shop.
Ellis of Team Pulsar for his extensive brushless motor knowledge.
John from Roaming Robots for building a spinner-proof arena and keeping up the encouragement.
Trevor from Roaming Robots for helping us out with transport to Manchester.
We'll hopefully be battling this machine in all 4 shows in Manchester, then quickly reworking bits of it before Portsmouth two weeks later.  We'll see you there.