The 10 week build – Week 8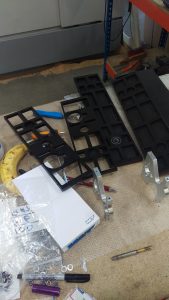 Not a huge amount has happened this week either.  Last weekend was spent in the workshop working on a top secret project Big Dave 3 and I (Chris) have had loads on at work this week.
That said…. there is evidence of parts of a featherweight starting to emerge from the machine shop.
Of course…. as is necessary for roboteers, there's an banana for scale.
Come Monday, we should have all the parts and be able to build a rolling chassis that's not made out of 3D printed parts.
Friday next week should see us have all the parts to finish the featherweight (we hope!). Roboteers, stand by!  Catch Me If You Can is coming to a featherweight battle arena soon.