Ignore everything I said about bearings!
Let's, once again, talk about bearings. First things – ignore this! It's now outdated and kinda wrong… Secondly, Happy 2017! This will be the year that we get on Robot Wars, hopefully!
Those bearings, whilst still cool, won't sustain any sort of impact for any sort of time. Instead, we're going for Taper Roller Bearings, normally found in things such as cars/trailers/etc. They're designed to handle some shock loads, as well as both radial and axial loads.
A good thing is that a couple of the other drum spinners (Ellis/Pulsar, looking at you here….) also use taper roller bearings. And they're relatively cheap, coming in at around £45 each for the size we're going for. Once again, we're going for SKF bearings or equivalent, and have used their excellent CAD downloads to help with design. A slight concern that I have is that the drum is geared to spin at 8550RPM, and the limiting speed of these bearings is….8600RPM.
We're definitely close to the limiting speed. However, as Gary of PP3D fame pointed out, these bearings are designed to run for thousands of hours, whereas we will be using them for maybe 30 minutes at Robot Wars, with perhaps another hour or two of testing time, so getting that close to the limit shouldn't be too much of a concern. Hopefully.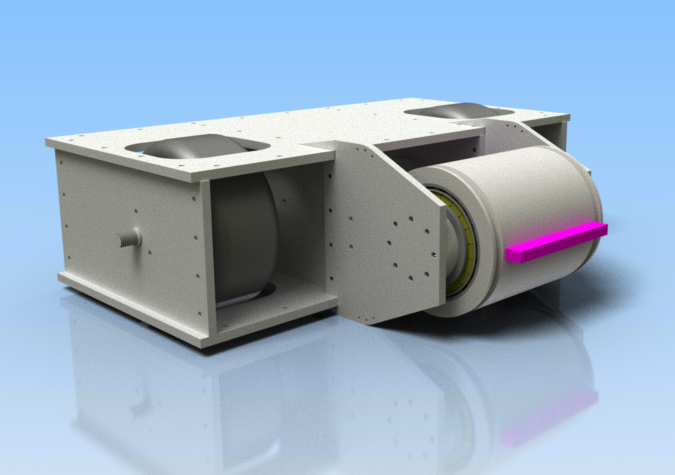 That's pretty much as much detail as my poor old laptop can handle – it crashes when I put in the bolts/nuts! But, this is how Big Dave 3 looks in lovely CAD at the moment. The drum at the front is now the thing causing most of the issues, but you can see how the bearings will sit in the drum. The weapon stubs (circle of holes) are large, but serve their purpose – enough to take a spinner's blow or 9, we hope. The above image should also give you a pretty good idea of just how close this thing is to the ground. Whilst it shouldn't bottom out, we've deliberately gone for a slightly higher ground clearance than I would like because we have now idea how consistent the floor of the arena is.
However, it'll drive & spin and still be mostly deadly, regardless of which direction it will be. The question is now…. can we get it made in time? Will we be able to spin it up to speed safely? Will it actually work??
We have no idea.
But, that's half the fun!
-Rob