Early on chilly Saturday morning, Rob and Chris set off for Ali's place to start the mammoth task of building Big Dave 3 in under 2 months.  Progress was, as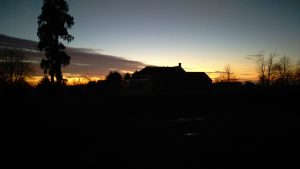 is always the case, fashionably slow on the Saturday morning – with little evidence of any real progress to show by lunchtime.  However, as Saturday started to roll on and the sun started to go down on day 1, there was evidence of parts of the chassis coming together.  Much of Saturday's wasted time was picking a fight with a pair of go-kart tyres, which didn't exactly want to go onto their hubs and stay there.
We wrapped up at approximately 10PM, having spent best part of 12 hours in the workshop, knowing that, with enough energy (which is difficult to get in a workshop that's freezing cold!) we could probably just about finish the wheels by the end of the weekend and have something that rolled.
It become increasingly clear on Sunday morning that this wasn't quite going to happen.  Snapped drill bits, and a fairly significant misalignment of an internal panel meant that we couldn't quite get the second wheel in place by the end of the weekend.  However, we've learned a lot.
We are all, of course, eternally grateful to Ali's parents for granting us access to the workshop – and, indeed, its current occupants for allowing us to invade of a weekend and use the machinery.
Two build days down, and we'll be back at it again in a couple of weeks, hopefully to get the motors installed, second wheel installed and then get something that actually moves.  Keep checking back here for updates.